New international board of IPA
Meet the new international board of IPA, from the left to the right:
ALLET Jean-Pierre (CH) Treasurer Social Affairs,
Oliver HOFFMANN (D) International Relations Commission,
Joze SENICA (SLO) Secretary-General, Martin HOFFMANN (A) International President,
Michael WALSH (IRL) Finance Treasurer, Diego TROLESE (I) Professional Commission,
Christos PARGINOS (GR) Socio-Cultural Commission,
Clive WOOD (UK) Head of Administration.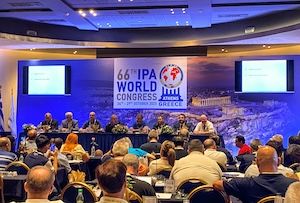 Children's PaintingCompetition
On behalf of the IPA Socio-Cultural Commission (SCC) please see the details of the 3rd International Children's PaintingCompetition. All children or grandchildren of our members, aged 6-12 years are eligible to participate.
All paintings should be sent to the SCC member in charge, Mr. Vlaho Lujo, scanned and forwarded by e-mail to: Dit e-mailadres wordt beveiligd tegen spambots. JavaScript dient ingeschakeld te zijn om het te bekijken.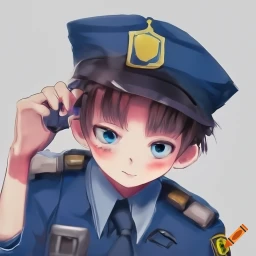 66th Ipa World Congress 2023, Athens- Greece.
Dear friends of IPA,
On behalf of IPA Greece, please find attached an invitation letter, the program and the registration form for the 66th IPA World Congress, which will take place from 24 to 29 October 2023 in Wyndham Grand Hotel Athens, Athens- Greece.
In addition, the program and registration form for Friendship Week (October 29 - November 05, 2023) are provided.
All information, including payment details, deadlines, terms and conditions, are also available on the dedicated IPA Greece World Congress website (see link below), as well as on the IPA's international website.
You can submit all documents directly online or download it and send them.
(Optional) Photo is also required for the accreditation cards.
 Website: https://ipa-66th-world-congress.org
Email: Dit e-mailadres wordt beveiligd tegen spambots. JavaScript dient ingeschakeld te zijn om het te bekijken.
We are looking forward to seeing you in Greece!!!
Patches
I am an IPA colleague of the Berlin / Germany police and I have a question at this point.
I collect patches from the police forces of the countries and wanted to ask if there is a colleague who would like to exchange a patch. Could you somehow publish this on your homepage?
POK Ermers  Georg
Direktion Einsatz/Verkehr
Abt. V VSD 014 (SB Kfz E)
Rudolstädter Str. 83-86 10713 Berlin
Tel: +4930/4664 – 746060
Fax: +4930/4664 – 746199
E-Mail: Dit e-mailadres wordt beveiligd tegen spambots. JavaScript dient ingeschakeld te zijn om het te bekijken.
           Dit e-mailadres wordt beveiligd tegen spambots. JavaScript dient ingeschakeld te zijn om het te bekijken.