Operation Zephyr 2024: Task Force Sirocco
Could I please ask if you can share the below as widely as possible within your force or organisation and contacts? Thank you, Aidan
 
In September 2022, a large group of volunteers set out from across Europe on the first Operation Zephyr Aid Mission to The Gambia.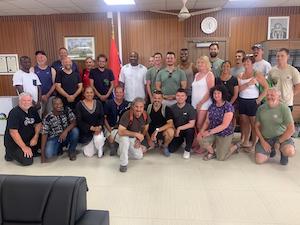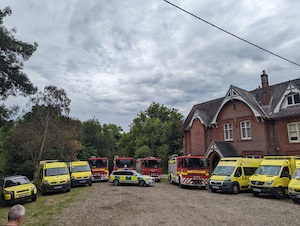 This team comprised mainly of serving and retired emergency services personnel, many of whom were IPA members, and between them were successful in delivering 17 emergency vehicles to partner agencies in The Gambia.
This included 6 fire engines, a massive achievement when at the time the country only had 12 engines nationally. The remaining vehicles were ambulances, which were distributed to hospitals in need throughout the rural areas of the country.
To do this, the team drove from the UK, across Spain, and down the west coast of Africa, crossing Morocco, Western Sahara, Mauritania, and Senegal, before finally reaching their destination in Banjul, the Gambian capital.
(You will likely read some excerpts of this adventure in a future 'Police World'!).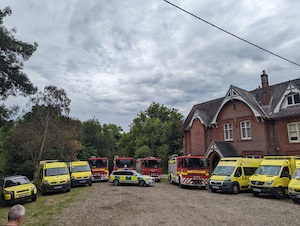 Following from this success, a second Operation Zephyr Mission has been planned, known as Task Force Sirocco, and the Emergency Services Aid Charity would like to invite you to join us in September 2024 to complete this amazing project and have the adventure of a lifetime along the way.
 
If you are interested in an information pack or applying, please email:
 
Dit e-mailadres wordt beveiligd tegen spambots. JavaScript dient ingeschakeld te zijn om het te bekijken.
 
Please feel free to share this within your forces, or with any colleagues who you feel may be interested.
 
Thank you.
As you may have heard, following the success of the 2022 mission, the Emergency Services Aid Charity have launched Operation Zephyr 2024: Task Force Sirocco, and would love to invite you and your colleagues to be part of this.
As before, we will be travelling overland across West Africa in order to deliver Fire Engines, Ambulances and equipment to our partner charity, and the Emergency Services in The Gambia.
The difference that we can make cannot be stressed enough, and we would love to have officers from across Europe take part.

This is not an IPA event, but more than half of the participants last time were members, with many joining because of it, and it is a great opportunity to highlight the IPA to many who have not heard of it.
If you could please share this across your organisation, and with any friends and colleagues within any emergency services, that would be very much appreciated.
If you have any questions, please just ask,
Kind Regards, and in Friendship,
Aidan
Apartment announcement
Hello,
I am an IPA member from Spain and I would like you to spread among belgian colleagues this rental announcement of an apartment in south Spain, just in case anyone could be interested.
Best regards. Thank you in advanced.
Rafael Mostazo (IPA member E-26004)
International website - Discounts & Offers page
We have recently created a new page for our international website that we think will be useful for many IPA members across the world – a 'Discounts and offers' page. This page showcases the partnerships from a number of IPA Sections, all in one space, so you can easily see what our Sections have to offer.
You can find the page at:
https://www.ipa-international.org/Discounts-and-offers
Please note that this page is not static and will be updated frequently as and when old offers expire and new discounts or partnerships are added. If your Section has any offers or discounts you would like to share with the IPA world on this page, please contact us and we will be more than happy to add them.
Kind regards,
Daniel James
International Police Association
International Administration Centre
IPA Video Competition - IPA Children's Drawing Competition 'Deadline'
On behalf of the Chairperson of the Socio-Cultural Commission and Vice President, Kyriakos Karkalis, please find attached a letter regarding an extension to the deadline of the IPA Video Competition. The deadline for the competition is now 30 September 2021.
For more information about the IPA Video Competition, please take a look on our website at:
https://www.ipa-international.org/Video-competition
On behalf of the Chairperson of the Socio-Cultural Commission and Vice President, Kyriakos Karkalis, and further to the extension of the video competition, this email serves as a reminder for the IPA Children's Drawing Competition, which is still ongoing. The deadline for the Children's Drawing Competition is also 30 September 2021.
You can also view information about the IPA Children's Drawing Competition on our international website at: